Collection: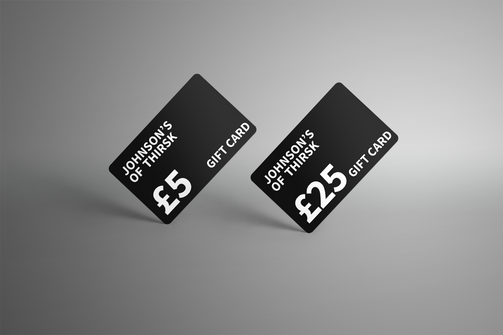 Collection:
Gift Card
Gift Card
Vendor

Johnson's of Thirsk

Regular price

Sale price

£10.00
Tax included.
A Johnson's of Thirsk Gift Card is an ideal choice for gifting delicious Yorkshire food to a loved one, friend or colleague.
Claiming Your Gift
The Johnson's of Thirsk Gift Cards are able to be used in-store or on our online store, using the QR code or the 16-Digit code on the back.
The Gift Cards act as pre-paid cards. The recipient can use it more than once, either in-store, online or both. Whether you want to use it all at once or use your balance little and often, we will make sure the balance is up to date.
How it Works
You can purchase the Digital Gift Card through our online shop.
You will receive a confirmation email with a Digital Gift Card - as an email or PDF.
You can share this directly with the recipient via email or print it out.
The QR Code can be scanned from a phone, tablet or print-out in our shop to redeem the Gift Card.
Physical Gift Cards

If you want to give a Johnson's of Thirsk Gift Card, but want something physical as a stocking filler then please email us at online@johnsonsofthirsk.co.uk.