Collection: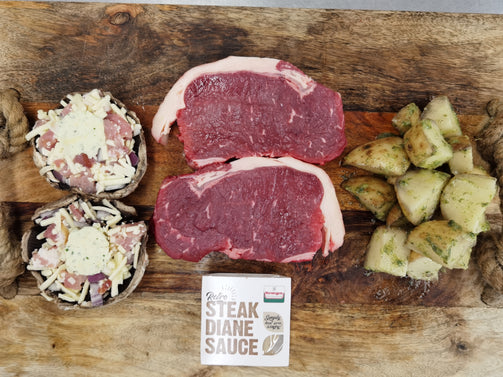 Collection:
Steak Night Pack
Steak Night Pack
Vendor

Johnson's of Thirsk

Regular price

Sale price

£18.00
Tax included.
The Johnson's of Thirsk 'Steak Night' Pack is a perfect opportunity for a treat. Two Yorkshire-grown, melt-in your mouth Sirloin Steaks partnered with sides and an award-winning sauce.
The Pack comes with two side-dishes; (i)Two portobello mushrooms stuffed with award-winning Yorkshire cheese, bacon & garlic-butter. (ii) Garlic-butter marinade potatoes.
Each set of steaks comes with a complementary award-winning Steak Diane Sauce from our favourites at Verstegen.

Contents
2 x Sirloin Steaks
2 x Stuffed Portobello Mushrooms
1 x 300g Garlic-Butter Potatoes
1 x Steak Diane Sauce
Product Information
This pack contains the following allergens: